28 March 2019
Substance, Drug & Alcohol Misuse in the Workplace
There are so many considerations when you are implementing a Substance, Drug & Alcohol Misuse (SDA) Policy in the workplace. Key questions you need to be asking are:
What is your organisation's approach to SDA misuse in your workplace?

What are the consequences of SDA misuse?; 

What support is your organisation prepared to offer?

What needs to be in your policy to support that approach?

Who is covered and when/how does it apply?; 

Who is responsible for enforcement?

What supporting policies and documentation do your managers need?

What training do you need to provide to managers and employees?

How will you communicate awareness?

What is the

impact / effect

of SDA misuse in your organisation?

Absenteeism; Productivity; Safety; etc

Do you consider testing for SDA misuse?

What are the legal implications?

What guidance, help and support

is

there for your organisation?
The related legal responsibilities alone highlight the risks of ignoring SDA issues in the workplace and the image shown here shows the range of related acts.  Add to this the implied duties in the contract of employment, including the employer's Duty of Care to their employees and workers.  Furthermore, action must be taken if someone is found to be working 'under the influence', or similarly if someone is found dealing drugs on Company premises. Consider also that a tribunal can find a dismissal automatically unfair if an individual's substance abuse problem can be linked to work and no support has been offered.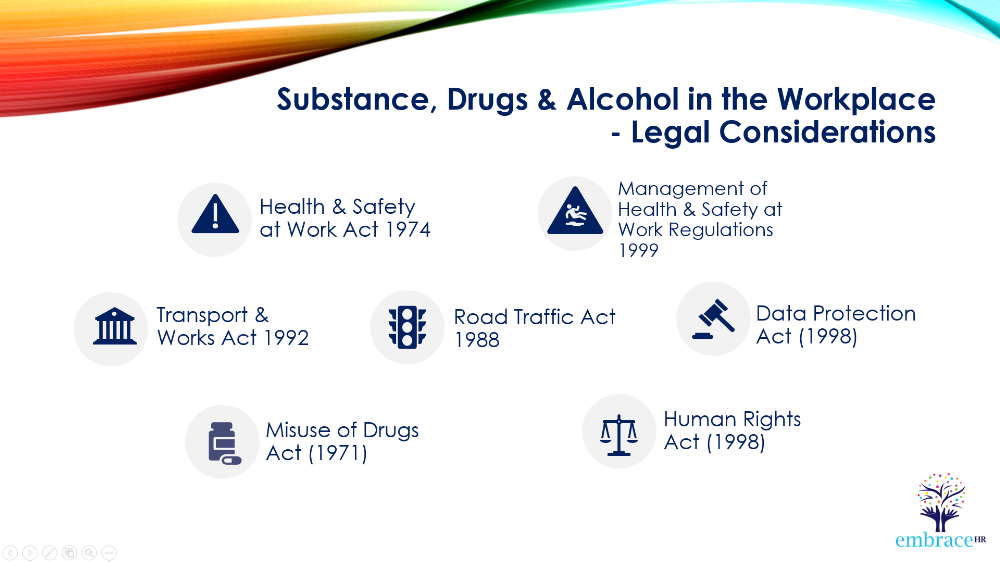 The statistics surrounding drug and alcohol use are chilling:
At least 4 million people of working age are regular drug takers
11-17 million working days, at a cost of £1.8bn annually are lost due to excessive drinking
Alcohol-related deaths reached nearly 8,000 in the UK in 2017
35% of employees either knew or suspected a colleague had taken illegal substances
The British Medical Association states that individuals in managerial and professional occupations drink more frequently than those in routine and manual occupations, but we also see that night shift workers, drivers and people in professions such as catering, the media, construction, the Armed Forces, doctors, legal and healthcare professionals are also likely to be affected.
A well-established North West foodservice company conducted a test of their night shift and found that more than a third tested positive for cocaine. Another company called in a service to unblock their drains and found empty vodka bottles had been flushed down their toilets. Alcohol and drug misuse isn't something that is happening occasionally – it is real and relevant to all of us.
There are lots of workplace factors that can lead to people drinking because of work and there are many elements to take into account when trying to identify the signs and symptoms of problematic use, including:
Attendance changes

Behavioural / emotional

changes

 

Physical changes

Poor decision making
It is important to train managers properly to spot the signs and identify issues and then what to do about them. Having a conversation with a colleague you feel is experiencing problematic substance, drug or alcohol use is probably one of the most difficult workplace conversations you or your managers are likely to have, so it is incredibly important to get it right. Many people, understandably, experience barriers to discussing these issues with their team members.
I have dealt with a variety of workplace scenarios, from supporting someone whose partner was an alcoholic to dealing with a driver who showed up for their shift under the influence; and from helping a young person (whose anxiety and depression issues had led them to a substance abuse problem) get appropriate support; to providing policy documentation and management training to an organisation who suspected there was a high incidence of alcohol misuse due to the culture of the workplace.
I also have links to trusted and professional Drug and Alcohol Therapists, Occupational Health Practitioners, Safeguarding professionals and testing services who, when working in partnership across the full range of service provision, can provide your organisation with a truly holistic approach.
Please contact me if you would like to discuss your workplace needs or would like some support for your organisation.